Category Archives: Onsen (hot spring)
This is the place I really, really, want to visit.
Especially Cave bath locates near the beach, so nice!
When the evening glow dyed in red ends, too A blue light enters the hot spring, and it becomes a beautiful blue cave. Moreover, there is an observatory where the creek can be commanded when going up in the stairs in the cave, and power and the adventure mood of the Sea of Japan can be tasted enough. It is possible to experience from the cave bath with things of nature such as fishing fires and wild birds. Moreover, there is a day when the full moon is seen if it is fortunately cloudless.
"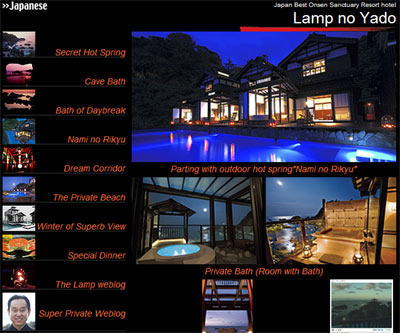 Japan is hot spring paradise.
Some volcanos are active and make unique quality of hot water.
Hot spring make us relax, vitalize body, healthy, and make our skin smooth and beautiful.
Some hot springs release radium and final hope for cancer patient.
This site has lots of wild pictures.
I like hot spring near beach.
This is one of my favarite one, "Sunship Imai-hama".